Burkinabé dried mango producers are amongst the best in the world. Yet mangoes are a seasonal product. So for much of the year, the infrastructure needed to produce this dried mango goes unused.
The goal of the Burkina Dry More project is to get more out of the mango drying infrastructure that exists in Burkina Faso. Over the next 3 years four new products will be introduced into the line-up of processing companies, extending drying well into the mango off-season. The project works to strengthen access to markets and linkages between processors and farmers. It will also improve farming & processing skills while increasing competitiveness of the selected processing companies. A longer processing season has the potential to increase jobs, improve farmer livelihoods and make for a better opportunities for all.
Having a working template can make all the difference to job creation, livelihoods and better inclusion of women and youth.
Making more of the existing dried mango chain
Connecting buyers in EU, India and other markets to processing companies in Burkina Faso
Helping processors tap into pockets of financing so that they can fund this growth
Supporting processors and growers to produce quality products in a competitive way
Enabling growers to increase yields, improve quality and reduce losses—undeniably better for livelihoods in general
We aim to build a productive agro-processing sector in Burkina Faso that provides improved revenue to smallholder farmers and sustainable employment to youth and women.
New jobs created for woman and youth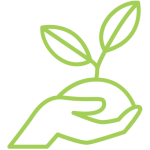 Farmers to increase their income
Burkinabé companies to increase their revenue
New processing innovations introduced